Component: Latest posts
General

Display a list of your most recent posts.
Settings
Styles panel
---

Set the display style for the nested posts.
Post content settings panel
---
Post content

Enable to show the post content.
Post meta settings panel
---
Display author name

Enable to show the post author name.
Display post date

Enable to show the post date.
Featured image settings
---
Display featured image

Enable to show the posts featured image.
Sorting and filtering panel
---
Order by

options
Newest to oldest
Oldest to newest
A → Z
Z → A
Categories

Separate with commas or the Enter key.
Author

options
All (default)
list of all authors
Number of items

Define the maximum number of items that can be shown.
Options
Range of 1 – 100. Manually input numbers outside of this range will be reset to the closest valid number.
Advanced panel
---
Additional CSS class(es)
Add a custom class-attribute to the component.
Separate multiple classes with spaces.
Read the additional css class(es) documentation for more information and examples.
Toolbar
---
The following options are available in the Gutenberg toolbar.
Alignment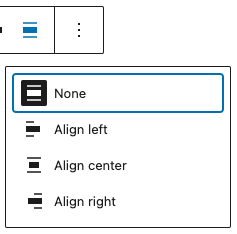 Change the alignment of the component.
options
None (default)
Align left
Align center
Align right
List view

Grid view

Wireframes